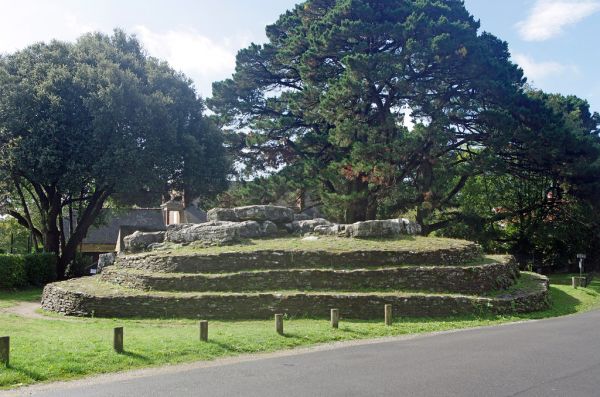 The Mousseaux Tumulus in Pornic
Located 11 km from the Eleovic campsite in Loire-Atlantique, discover the small town of Pornic, ideal for a relaxing vacation by the ocean. The town offers a wide selection of outdoor activities for families and friends to enjoy. Enjoy wide stretches of sandy beaches, explore the region's wild coves or book a boat trip. Stroll through the picturesque streets of Pornic and discover an archaeological site in the very heart of the town, the Tumulus des Mousseaux.
Discover the mysterious Tumulus des Mousseaux
Stroll through the narrow streets of Pornic and observe the curious architecture of this prehistoric monument.
The history of this archaeological building
At a bend in the road to the west of Pornic, there's a strange, ancient stone construction. Classified as a Historic Monument in 1889, the Tumulus des Mousseaux is in fact a megalithic funerary structure built during the Neolithic period, around 3,500 BC.
This mysterious monument, restored between 1975 and 1977, is part of a large necropolis that no longer exists. It protects two megalithic tombs, both comprising several chambers served by galleries. The entrances still visible lead into its corridors. The entire edifice consists of a 180 m² cairn (stone mound), surrounded by three tiered dry-stone walls.
This fascinating funerary construction, a witness to the past, is typical of Pornic. This type of tumulus was later developed in the heart of the Loire estuary.
Useful information
Located north of the Noëveillard beach, rue Jean Guynemer, the Tumulus des Mousseaux is freely accessible all year round. When visiting Pornic, don't hesitate to stop for a moment in front of this strange archaeological construction! Finally, for the more inquisitive among you who wish to discover all the secrets of this archaeological site, Pornic's tourist office organizes guided tours with members of the association mégalithes en Retz (AMeR).
What can you do near this archaeological site?
Walking, cycling, boating or discovering the region's heritage… Pornic offers a wide choice of activities.
Visit Pornic
Take a stroll along the town's harbor or its narrow shopping streets. Take a guided tour of Pornic's private castle, or stroll the aisles of the 17th-century Halles market to sample typical local produce. Finally, visit the Pornic earthenware factory, where the famous blue and white bowls are made.
Take a deep breath of fresh air
Discover the region's wild coves, take advantage of the countless hiking trails and follow the GR 8 trail to Pointe Saint-Gildas for a breathtaking view of the Atlantic Ocean. Spend a relaxing moment on the town's beaches: Plage des Sablons, Plage des Grandes Vallées or Plage de la Joselière. Finally, if you'd like to take a trip out to sea, book a trip aboard a sailboat.
Stay close to Tumulus des Mousseaux in Pornic
Stay at our 4-star Eleovic campsite, ideally located by the sea, in the heart of Pornic's wild creeks. Rent one of our ocean-view accommodations: lodge on stilts, mobile home or pitches for caravans and tents.
Take advantage of the facilities on offer at our campsite near Pornic:
heated indoor swimming pool with hydro-massage benches
direct access to hiking trails
laundromat
bar
restaurant
multisports fields
kids club
In summer, our team offers evening entertainment for young and old.