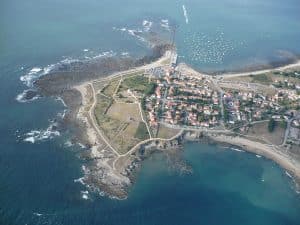 Saint Gildas Point in Préfailles
The Pointe de Saint-Gildas regional nature reserve is located in Préfailles, Loire-Atlantique. The panorama is exceptional, whatever the weather. You'll enjoy a unique view of the Loire estuary, the Bay of Bourgneuf and the island of Noirmoutier. Ideal for family outings, discover this little corner of natural, unspoilt paradise.
Hiking at Pointe de Saint-Gildas
This beautiful region is ideal for hiking, and numerous signposted trails, suitable for all levels, enable you to discover unique landscapes.
The Pointe de Saint-Gildas circuit
The 7.2 kilometer-long Pointe Saint-Gildas circuit is ideal for exploring the Préfaillais coastline. This simple, easy-to-navigate route is great fun for the whole family. However, some sections are unsuitable for baby carriages. The start and finish of this hike are opposite the Grande plage in Préfailles. From there, it's a 2-hour ride. Along a wide path, you'll admire an array of small beaches (Les Châtelets, La Raize, l'Anse du sud), coves and cliffs. Even if you're in Loire-Atlantique, there's still an air of Brittany in the air. Benches facing the sea invite you to contemplate and relax in the face of superb wilderness. This walk takes in part of the Douaniers trail linking Préfailles to Pornic on the Côte de Jade.
The little loop at Pointe de Saint-Gildas
You can also do the shorter, but equally spectacular, Pointe de Saint-Gildas loop. With a distance of 3.95 kilometers, start and finish from the parking lot near the dike, north of the pointe. Along the way, admire the panoramic view of Saint-Nazaire and the Loire estuary. A semaphore is open to visitors. As you stroll along, admire the spectacle of the waves, especially in heavy weather. Surfers at Anse du Sud have a field day. Make sure you stay on the GR and don't hesitate to postpone this hike if weather conditions are unfavorable.
Préfailles and Pointe Saint-Gildas loop
The more athletic can set off on the "Préfailles and Pointe Saint-Gildas" loop. This beautiful 12-kilometer circuit, between sea and countryside, offers a breath of fresh, iodized air. The warm-up starts on small roads and paths, and two-thirds of the hike is along the coast, ending with a visit to Pointe Saint-Gildas and its war relics.
For all these outings, don't forget to take something to protect you from the sun, as well as the wind. By the sea, weather conditions can change quickly.
Fishing at Pointe de Saint-Gildas
To enhance your camping holiday in Préfailles, you and your family can try your hand at fishing at the Pointe de Saint-Gildas. A veritable institution and tradition on Pointe Saint-Gildas, set off in search of clams, mussels, scallops, razor clams, barnacles and shrimps. It's an ideal, popular spot for a fishing trip, where quality and quantity are the order of the day, with the added bonus of a breathtaking panorama!
You can leave your car at the parking de la pointe. Don't forget a good pair of boots (or closed shoes), a knife, a landing net and a bucket.
Find out about current regulations beforehand. For example, for conservation reasons, certain species (abalone, sea urchins, scallops) can only be fished from November to March. The tools used are also regulated. You can take traditional claws and cows, knives, soup spoons and forks with you.
And don't forget that the harvesting quotas are more than sufficient to provide you with pleasant, convivial meals (depending on the fishing area, around 3 kg of mussels and 4 kg of cockles).
It's advisable to arrive on the beach well before the end of low tide, to avoid being surprised by the rising water. Time flies when you're fishing on foot, and you can quickly become surrounded by water, especially if you're on a rocky island or raised sandbank. As you'll see, there are plenty of benefits to be had from shore fishing. A true moment of relaxation and disconnection, ideal for recharging your batteries, this activity will appeal to the whole family.