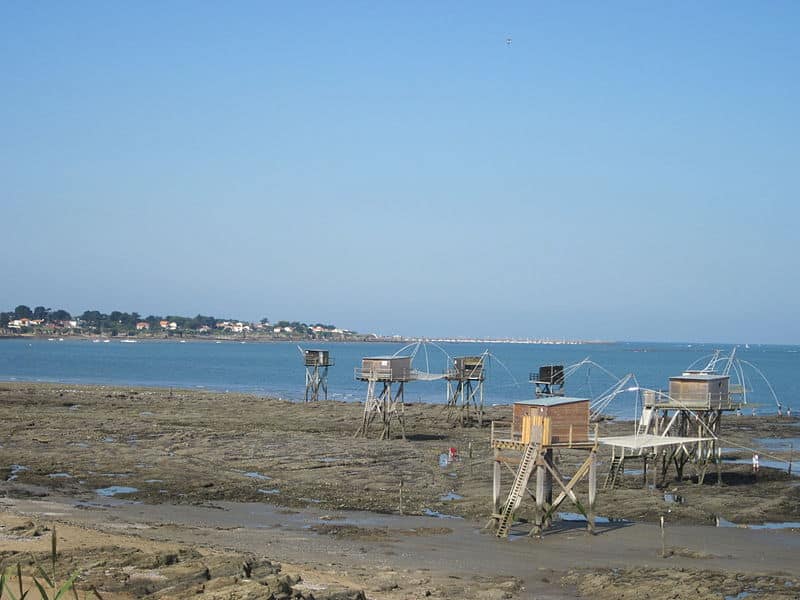 Great beach of Tharon
Spend your vacation in the immediate vicinity of the Grande plage de Tharon in Saint Michel-Chef-Chef and enjoy the pleasures of the water and a moment of relaxation on the beach at any time of day. This large beach in the Loire Atlantique region allows you to do all this and much more. Discover this family beach near the Eleovic campsite, which has retained all its authenticity.
Discover the great beach of Tharon
Tharon plage is located in the seaside resort of Tharon plage in the Loire-Atlantique department. This seaside resort, known as one of the most important on the Côte de Jade, belongs to the commune of Saint-Michel-Chef-Chef.
The large Tharon beach lies between the famous seaside resorts of Pornic and Saint-Brévin-les-Pins. The beach is easy to reach and the bathing area has a gentle gradient. This makes swimming easier and safer for children.
Tharon beach, with its fine sand, pretty fisheries and natural environment, is a real postcard landscape. These private fisheries are set up at the end of the beach and recall local traditions. You're sure to fall in love with the blue fishery, the most photographed fishery in the area! Azure in color, it quickly stands out from the crowd.
You should also know that this beach stretches for a kilometer and is very complete. In fact, its northern part is dedicated to water sports activities, its central part, which is supervised in season, is ideal for families, and its southern part is reserved for fisheries, as mentioned above.
What to do at Tharon beach?
Tharon beach is ideal for a wide range of activities, or simply for relaxing by the water.
A stroll through the nearby seaside resort of Tharon plage will allow you to admire the many villas and houses with their typical architecture. This building shows the importance of the resort at the beginning of the 20th century, cited as one of the pearls of the Jade Coast.
You can continue your walk on the beach at Tharon and try your hand at longe côte, an activity that combines sport and relaxation in a natural setting conducive to well-being.
Fishing on foot is a popular activity at low tide for tourists and locals alike. Tharon beach is a well-known fishing spot for cockles, periwinkles, clams and scallops. Please note, however, that catches are limited and pebbles and rocks must be put back in their place, to combine fishing pleasure with respect for the environment.
The large beach at Tharon also invites you to discover the pleasures of the water: sand yachting, windsurfing, giant paddle, catamaran, kayaking, surfing, towed buoys… the list goes on!
Swimming is, of course, another favorite activity for young and old alike.
Camping at Tharon plage
Camping Éléovic near Tharon plage offers you everything you need for an ideal vacation. Located in Préfailles in the Loire-Atlantique region (44), this family campsite boasts a view of and direct access to the sea. Enjoy a peaceful stay in one of our fully-equipped mobile homes with terrace, some of which have a sea view. The promise of a friendly, comfortable stay at Camping Éléovic.
You can also take advantage of the aquatic area, which includes an indoor heated swimming pool (with hydromassage benches), an outdoor children's pool and a solarium with deckchairs.
And to top it all off, there are plenty of activities and entertainment on offer throughout your stay (leisure areas, kids' club, musical entertainment, sports activities, etc.).
From this seaside campsite near Tharon, it's easy to discover the region's tourist attractions and Loire-Atlantique's most beautiful beaches. The Côte de Jade, Pointe Saint-Gildas, Pornic, Guérande and Tharon beach are all magnificent places to discover during your stay.
If you're looking for the perfect vacation, visit the Eléovic campsite at Tharon plage.