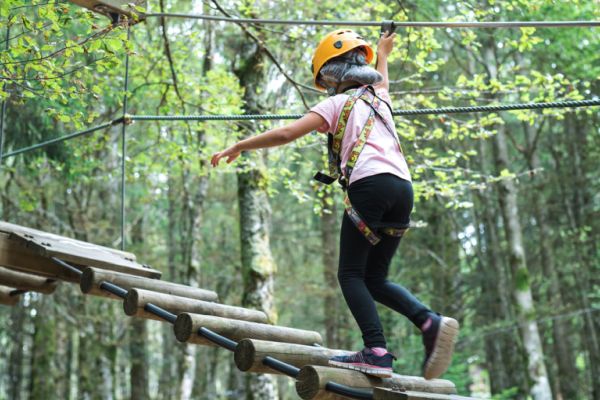 Pornic Aventures
Come and spend a few hours at Pornic Aventure, the largest accrobranche park in Western France! In a magnificent setting, between lake and forest, experience unique sensations with your family. From the beginners' course for 4-year-olds to the expert course, you won't have time to get bored!
Pornic Aventure: an adventure park accessible to all
In the middle of the forest, around the Val Saint-Martin pond, discover Pornic Aventure, a unique tree-climbing site. This exceptional natural site offers 9 routes to suit all levels.
Pornic Aventure ensures everyone's safety. Qualified teams use a patented safety system that makes it impossible to unhook. The beginners' course, accessible from the age of 4, is a must before setting off on the footbridges, zip lines or climbing wall. What's more, the site is regularly inspected by certified organizations.
In the heart of the 9-hectare park, enjoy 115 workshops and 1,500 metres of zip lines, on land or on the lake. All this over 9 courses, including the compulsory beginners' course, and 4 courses accessible from age 4 upwards: yellow (discovery), purple (fun), Tyrozen (zip lines) and blue (fun). The courses are progressive, depending on each individual's level.
From age 8 upwards, access the green course (fun), then the orange course (sports).
For those aged 10 and over, there's the red course (physical), while those over 12 can experience the thrills of the Tyromax course (sensational) and the black course (expert).
Finally, for your convenience, the park offers free parking, sanitary facilities, beverages and a picnic area nearby.
Park rates
It takes an average of 2 to 3 hours to complete all Pornic Aventure courses. Prices include safety equipment and gloves.
Children (4 to 7 years): €15 (under adult supervision)
Children's rates (8 to 11 years): €20
Teenagers (12 to 15): €23
Adult price (from age 16): €25
Admission is free for accompanying persons who do not take part in the activities.
Activities in the Pornic area
Pornic offers a wide range of activities for the whole family, on land or water, in a dream setting.
To recover from the thrill of the accrobranche, how about a thalassotherapy session? Pornic thalasso is a seaside paradise dedicated to well-being and relaxation. Choose between massages, beauty treatments or access to the fitness area.
If you still have some energy left after the zip line and climbing wall, don't miss a walk along the Douaniers trail from Pornic to La Bernerie en Retz. This route offers splendid views of the Jade coast, moors and beaches.
Another idea for a bike ride, this time from Pornic to Préfailles or Prefailles to Pornic from the campsite! This dedicated cycling route is 18 km long (approx. 1h30), with a breathtaking view of Pornic's harbour and château at the finish line.
If you're looking for a bit of fresh air, don't hesitate to rent a kayak from Pornic. There are 2 routes along the coast, to the west or east. Allow about 3 hours for the ride… Unforgettable!
Finally, if you prefer to cruise effortlessly on the water, many cruise operators also offer discovery outings. From Pornic, sail to Noirmoutier or along the superb Côte de Jade.
How do I get to the park from the campsite?
From the Éléovic campsite, the route with the fewest kilometers (13 km) is to join the D313 on the outskirts of La Plaine-sur-Mer, then take the D13 to the outskirts of Pornic. Take the D213 around the town at the level of the Centre Commercial de l'Europe. Follow signs for Saint-Père-en-Retz/Étang du Val Saint Martin. This journey by car takes 18 minutes in good traffic conditions.
This itinerary is also possible by bike, with a slight modification to the route, passing through the center of Pornic. Count on 12 kilometers (including 1.1 km of bike lanes) and around 45 minutes.
Your camping holiday near Pornic
Camping Éléovic is ideally located by the sea in Préfailles, less than 20 minutes by car from Pornic.
This 4-star campsite with views and direct access to the sea offers a wide choice of accommodation. You can bring the whole family and stay in a comfortable, spacious mobile home for up to 6 people. All are equipped with a terrace and TV. Would you prefer to enjoy sea views from your tent, caravan or motorhome? If so, book one of our spacious, delimited pitches without delay. The assurance of a dream holiday near Pornic!
To enjoy the pleasures of fresh water during your vacation at camping Éléovic, discover a superb aquatic area with indoor heated pool, massage jets and paddling pool. For complete relaxation, head to the Zen pool: with its jets, waterfalls and hydromassage benches, it's a pure moment of relaxation!